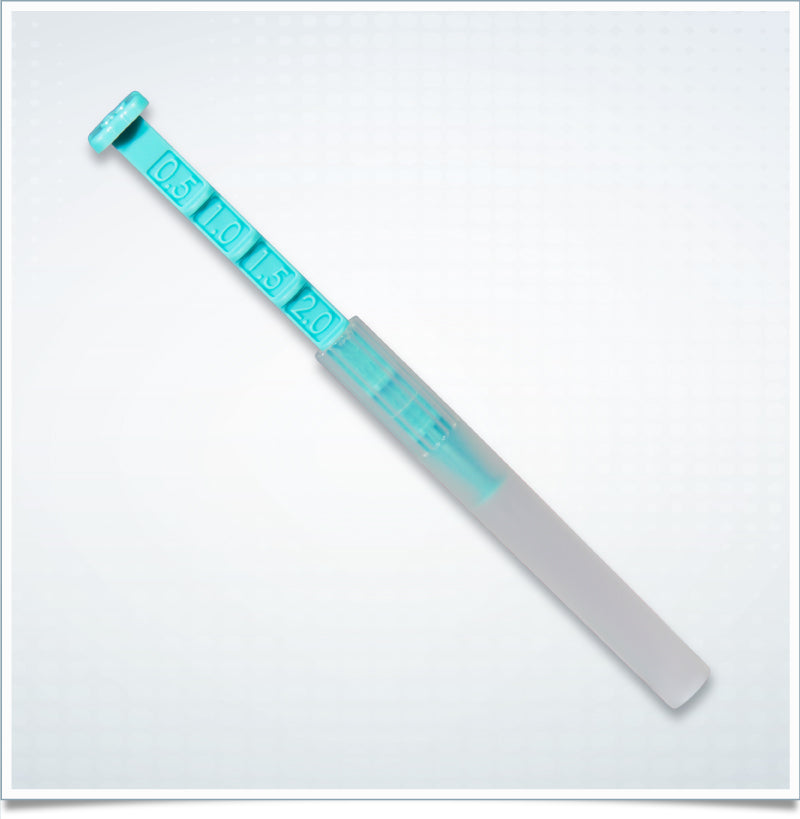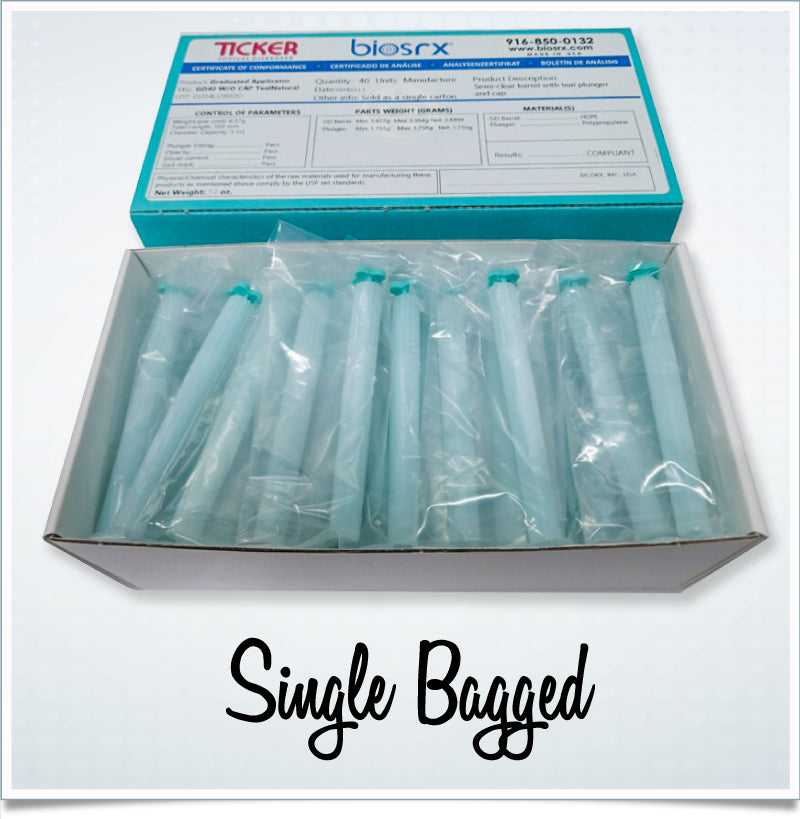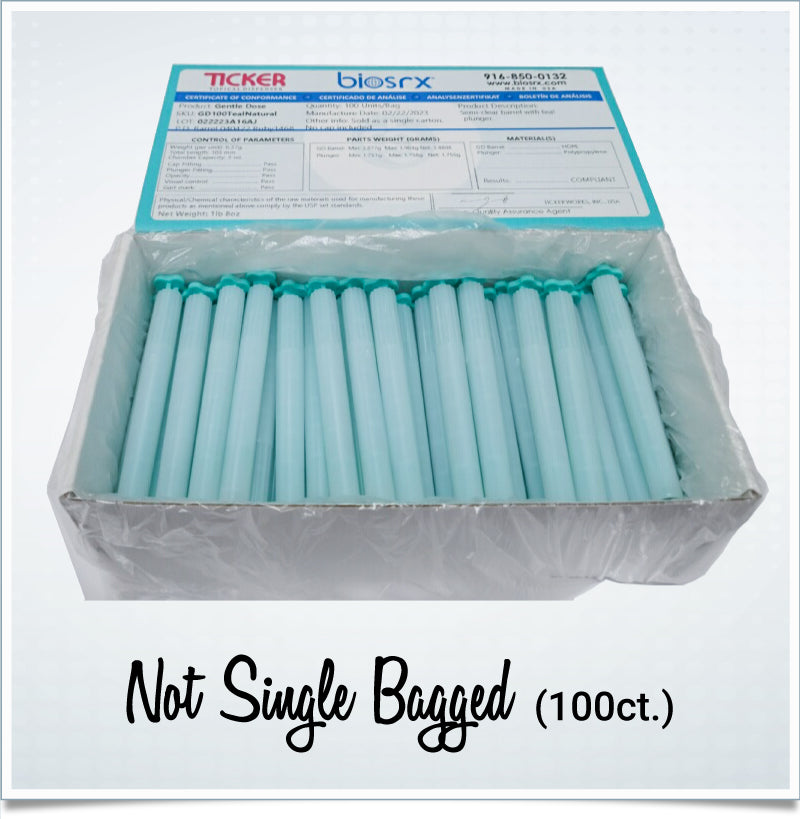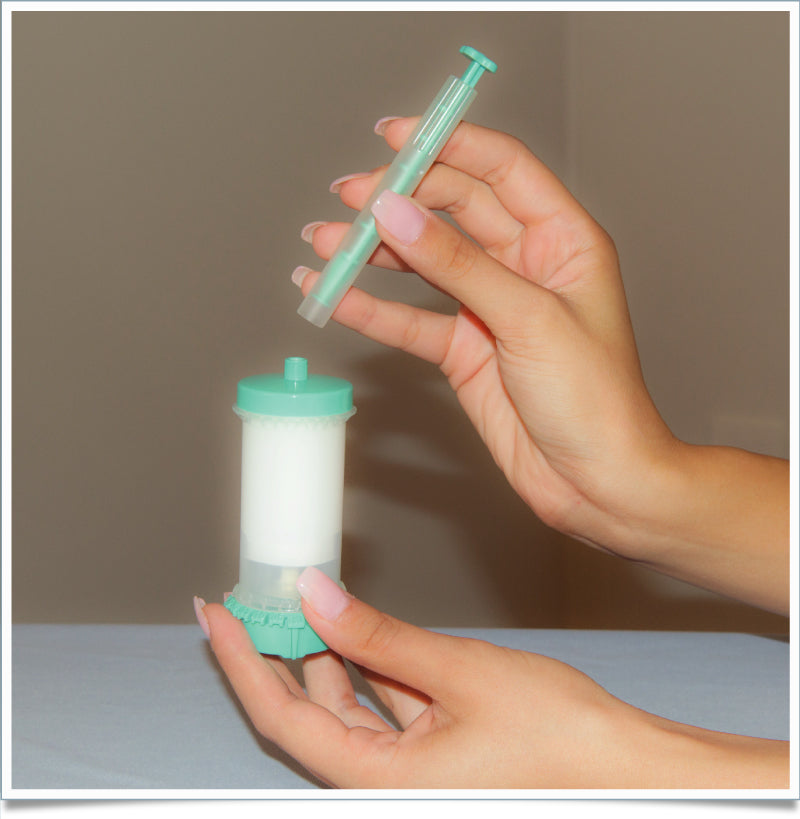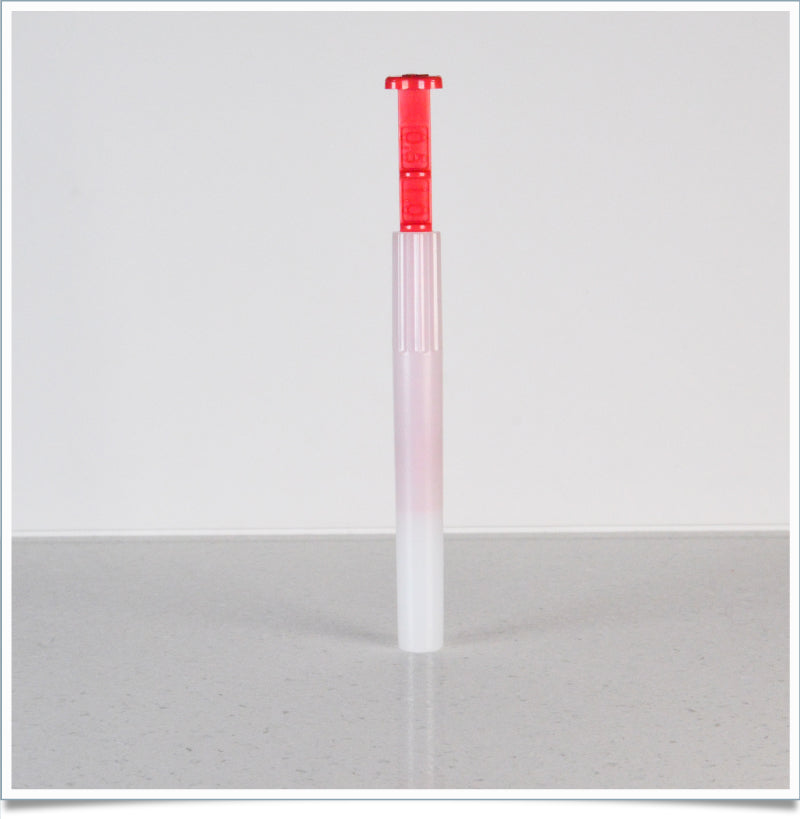 Gentle Dose® Petite Vaginal Applicator
Gentle Dose® Vaginal Applicator is the worlds first petite cavity applicator that is gentle, easy-to-use, and comfortable for the end user. As a versatile applicator, Gentle Dose generally accompanies single-use and multi-use custom prescriptions suitable for various uses (probiotics, antifungals, moisturizers, and hormone therapy). 
Most graduated applicators are too large for patient comfort, and in some cases may even cause permanent injury. Gentle Dose® is designed to be petite, comfortable, travel-friendly, and easy to use. Gentle Dose® empowers pharmacists to provide uniquely-positive dosing experiences with maximum patient control and comfort,
while maintaining accuracy and precision.
Gentle Dose® is also unique for its simplicity for both patients and compounding pharmacists. Gentle Dose® can be used for measuring and inserting creams, as well as mini-suppositories or Dotts suppositories. Up to four mini-suppositories or seven Dotts suppositories fit inside the Gentle Dose applicator. 
TICKER® Unlimited is a metered dispenser that transfers the topical preparation directly into Gentle Dose® and with the ease of a click! Simply dial your dose as directed and confirm the dosage with the dosing indicators of Gentle Dose.
GENTLE DOSE INTEGRATION:
SPECIFICATIONS:
Chamber Capacity: 3 mL
Components: Plunger, Barrel
Dimensions: 3.65 inches
Packaging: 40/box or 100/box
SKU: GD-(Color)-40 (40 applicators, each individually bagged) 
SKU: GD-(Color)-100 (100 applicators; no caps included; not individually bagged) 

**Sold only to compounding pharmacies and compounding wholesalers.
FEATURES:
Segmented dosing Indicators with easy-to-read numbers 
Each segment dispenses 0.5 mL
Soft cap included to slow evaporation 
World's most petite, gentle graduated applicator
BPA-free, phthalate-free
Easy grip design for ultimate control
Anti-roll, anti-slip next-generation design
Extruded dosing segments with numbers
Easy-to-fill or to pre-fill with TICKER® Unlimited
FDA medical-grade polypropylene material
Ideal for cream, gel, and ointment OR mini-suppository preparations
Package contents: plunger and tube sold as a single unit.
US Patent, 2020
Compatible with TICKER® Unlimited (Sold Separately)
BENEFITS:
Easy-to-use, easy-to-fill, easy-to-store
Minimal training for staff and for patients
Facilitates single-dosing and multi-dosing applications
Size and design decreases chances of self-injury  
Suitable for gel, cream, and ointment-like formulations with medium to high viscosity
Handles micro-dosing dispensations with TICKER® Unlimited
Ideal for transdermal and oral applications
Calibrated segments on the plunger for ease of dosing
Travel friendly dispenser (Does not readily ooze-out with pressure changes like other dispensers)
Recycle Code #5 Polypropylene
Made in the USA
Gentle Dose TICKER Patient Instructions (Download)
Gentle Dose Pebble Beach Patient Instructions 
TICKERWORKS provides Gentle Dose® applicators to compounding pharmacies and wholesalers that service compounding pharmacies. We do not provide Gentle Dose® applicators directly to patients at this time.