TICKER®MINI
TWO CLICKS = 0.1ML (0.05ML/CLICK)
TICKER® mini is an easy-to-use, and easy-to-dose topical applicator widely used for dispensing small doses of transdermal gels and creams with just a CLICK!
With a holding capacity of up to 20 mL, TICKER® mini is ideal for topical hormone replacement therapy. If HRT patients apply 0.5 mL or less daily, an entire month's supply can fit in TICKER® mini, without the topical applicator looking "half-empty."
With precise dosing capabilities as low as 0.05 mL, and with an accuracy reviewed and studied by PCCA, veterinary compounding pharmacists use TICKER® mini largely for veterinary applications, such as transdermal methimazole, mirtazapine, fluoxetine, and more. TICKER® mini reduces the need to fill tiny syringes.
To protect light-sensitive medications, the TICKER® mini is available in four different colors (Amber-White, Amber-Brown, Blue-White, Blue-Blue) and it is UV coated, phthalate, and BPA FREE. TICKER® and TICKER® mini are manufactured and assembled in the USA.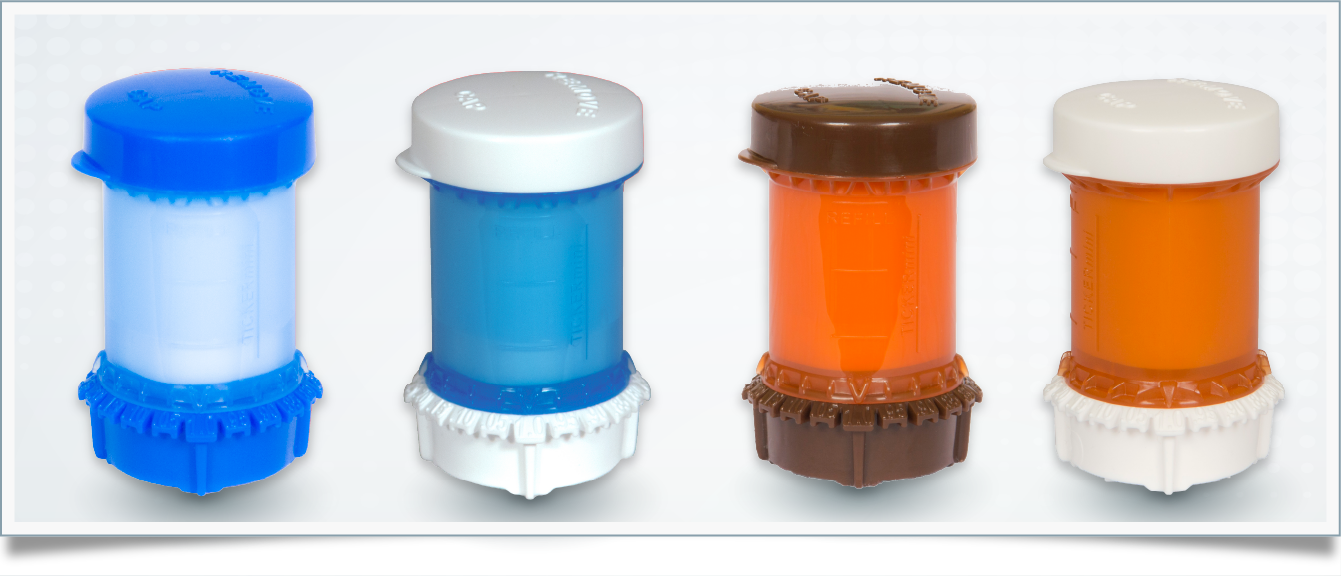 TICKER®mini Fits Everyone
TICKER®mini drastically decreases the chances of accidentally overdosing and underdosing as it's the case with other topical dispensers. With a wide spectrum of uses, TICKER®mini is ideal for dispensing transdermal, vaginal, and oral gel medications. As you turn the dial to the right, it CLICKS. The topical medication collects at the top of the applicator. The medication can then be applied directly onto the skin, or onto the inner earlobe of your furry pet patients.
Compact and Non-Threatening Design
TICKER®—The size of an applicator oftentimes has an effect on the end user. Most patients prefer to carry a travel friendly and smaller dispenser that fits everywhere. with a maximum capacity of 20mLs volume, TICKER®mini may just be the applicator of choice for most of your patients.
Benefits
Easy-to-Use for patients of all abilities
Holds volumes from 5mL to 20mL
Doctors can easily prescribe the exact dosage your clients need
Minimizes staff and patient retraining
Travel-friendly dispenser
Environmentally friendly
Color coding increases safety for patients using multiple topical medications
Features
BPA-Free
Phthalate-Free
UV Protection
FDA medical grade polypropylene material
Recycle Code #5 polypropylene resin
Holds up to 20 ml of cream/gel/ointment medicament
Each click dispenses 0.05 mL*
Five clicks (1/4 rotation of the base) dispenses 0.25 mL*
Specifications
Dispenser Capacity: 20 mL
Dispensation/CLICK: 0.05 mL
Residual Volume: 1.7 mL
Approximate Priming: 0.5mL (10 clicks; half-turn)
Packaging: 40 units per BOX
Audible and Tactile Feedback: Per Click and at every 90 degrees
SKU: T20-color-40
*Experiments were conducted with Transderma® HRT Base Xenex Laboratories, Humco HRT Base Heavy Cream, Medisca®  HRT, PCCA Lipoderm® (Lipoderm is a Trademark of PCCA)  Conversion Chart based accuracy studies for commonly used HRT Bases sold across the USA to compounding pharmacies. The results obtained are average values obtained from HRT bases with similar densities.