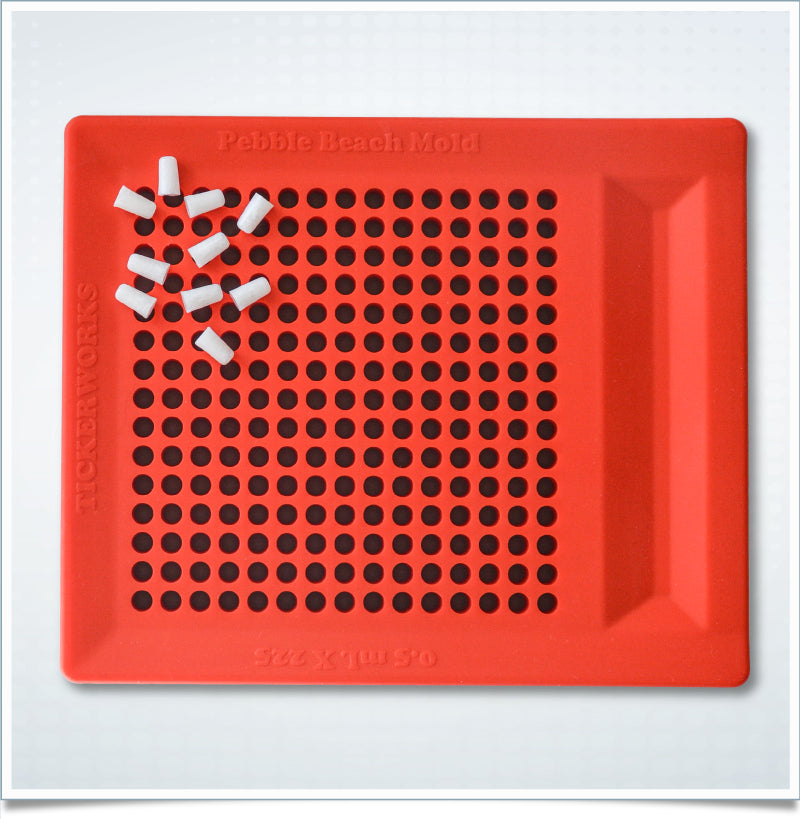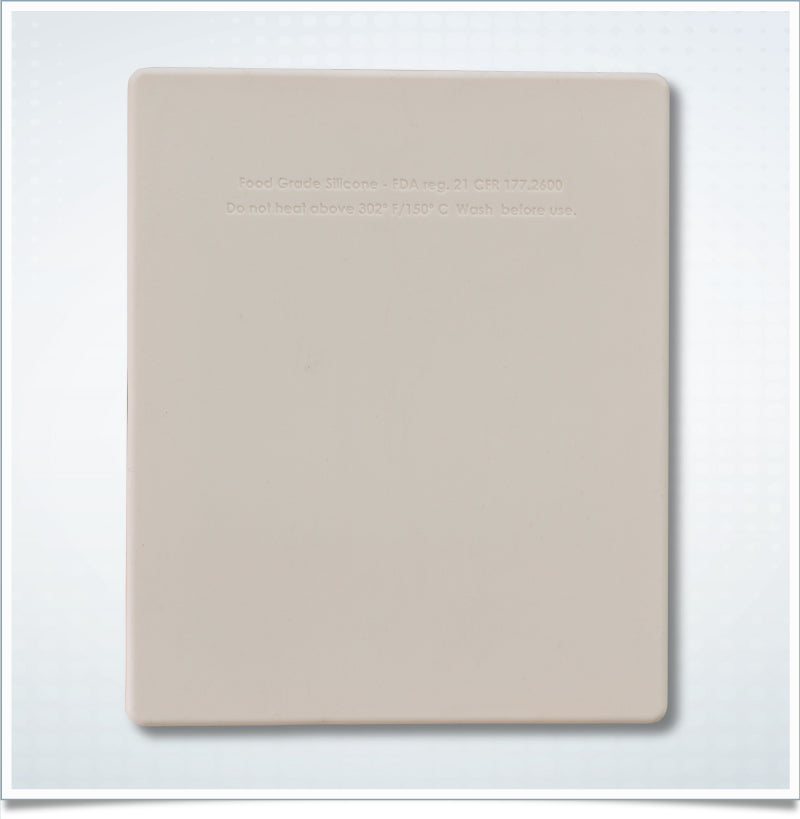 Pebble Beach Kit (0.5mL x 225 cavities) 2nd Gen
NEW!

 Second Generation Pebble Beach Mold System for Making: 

Suppositories 
Troches 
Pet Treats 
The latest mold system from TICKERWORKS features a heat and chemical resistant food-grade silicone material. The natural lubricity properties of the material used, translates into a non-stick product with quick release properties.
Each mold system comprises two parts. A top and a bottom component, where each counterpart attaches to one another forming a robust and air-tight system. Thus, minimizing leakage in between the two components. 
Similar to our previous molds, the molten mixture is spread over all the cavities, featuring our, "Pour and Disperse Method" and in a single step.
When all of the cavities are filled, the mold system is left to cool (for an average time of 30 minutes). Upon solidification, the mold is flipped over, and the bottom component (now at the top) is gently removed. The suppositories/troches can then pushed apart from the mold, or a roller can be rolled over the cavities to eject the suppositories. There is also an optional tamper available that can be used to remove the product off the cavities if desired. Please contact us for more information.
Each mold contains Two-Hundred and Twenty-Five cavities to meet all of your compounding needs. Each cavity measures a 0.5mL (half-milliliter) volume capacity. The greatest value with Pebble Beach Molds lies in the productivity potential due to fast turnaround times, minimal setup, and ease of use. Pebble Beach Molds are dishwasher safe. 
Our second generation 2nd Gen Pebble Beach Molds are manufactured with food-grade, high-density silicone. These molds are UV-stable and they offer high-flow properties to enable complex material formation and does not support microbial growth. In addition to high impact resistance, our silicone molds offer resistance to chlorine, most sanitizers, and common lab cleaners.
ADD-ONs are also available and sold separately, such as:

PB Tamper  (SKU: TAM225-050) which not only compresses RDTs, but it also functions as sectioning component so that compounders can easily make any amount compounds while reducing waste.
PEBBLE BEACH REMOVAL AND WASHER SUPPORT RACK
. This attachment supports the mold while on wash cycles, it also facilitates removal of product allowing the compounds to free fall right underneath it, and it also facilitates better cleaning while on the dishwasher and faster drying while air-drying.
Your Kit Includes: 
NEW! 2nd Gen Pebble Beach Mold (0.5mL x 225 cavities)
Roller 
Metal Tray
Spatulas 
Free Formula Conversion Support
30-Days Money Back Guarantee
One Year Full Warranty


Features:
Two-part system compliments one another to form a single mold system
Patent Pending

—

One Step Peel-Away-to-Release
Pour and Dispenser Methodology
Multi-Use Mold (Suppositories, troches, pet treats, triturates)
Durable, food-grade, high-density silicone with high durometer 
Dishwasher-safe, reusable mold 
Benefits: 
Dishwasher safe
High Productivity Mold
Improved patient adherence
Easy to use and easy to train onboarding staff
Optimal patient comfort with size and shape
Environment friendly
30-Day Money Back Guarantee
SKU: PBK2-050-2251
Weight: 833 grams
Dimensions: 9.75in x 7.76in x 0.80in
Cavity Volume: 0.50 mL

Total Cavities per mold: 225

Fits up to 150 mg of API per cavity

Heat resistant up to 302°F (150°C)
Compatible with most suppository and troche bases (i.e. PCCA, Xenex Labs, Fagron, Medisca).
Tested with most standard

PEG and Fatty Acid suppository bases

Incorporated run-off

 

trough

 

to collect excess material and to reduce waste

Food-grade silicone material
Easily transferable to blister packs, or child-resistant vials
*Other compounding supplies are available by contacting us directly.