THE START OF A NEW ERA IN HUMAN AND VERTIRNARY COMPOUNDING
DIGITAL DISPENSING SYSTEM (DDS)
Where volume-digitalization coupled with automation supersedes how stock formulations have been traditionally transferred from large EMP-Unguator®jars into smaller dispensing devices that patients take home. Ticker topical applicators, topical pumps, jars, and syringes can now be filled with just the push of a button. The transfer is fast, exact, and simple.
How Cappucine works
Cappucine is simple to use. Power on the unit and secure the prepared EMP jar. Let Cappucine prime the EMP jar, then insert a Ticker applicator (or other container) to be loaded. Simply adjust the dial to the desired dosage and push the dispense button. Cappucine's built-in digital scale will verify the dose. Remove Ticker and repeat as many times as desired. When there is not enough medicament left in the EMP jar to dispense the full dose, Cappucine can notify the operator. In the unlikely event of an incomplete dispensation, Cappucine can calculate the amount still required. Simply push the "Jog" button to dispense the remaining amount. When finished with the EMP jar, press "Home" on the touchscreen to return the plunger to the home position. The EMP jar may now be easily removed.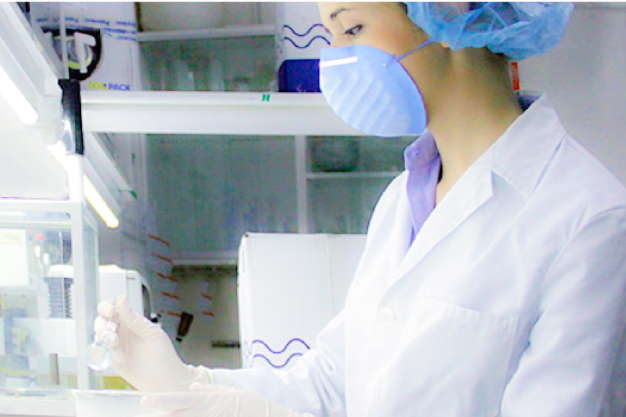 Benefits
10X Faster than manual loading @ flow-rate 20mls/sec*
Unmatched accuracy and precision
Automated-filling to streamline productivity
Volume auto-detection with 250, 500, and 1000ml EMP jars
Easy to use, minimalist design
Eliminates weighing the same preparation multiple times
Fewer batch transfers, minimal storage
Reduces operator fatigue
Error reduction
Easy to clean
Specifications
EMP Unguator® Jar Auto-Detection—Infra-Red photo-sensors detect EMP Jars; 250, 500, 1000ml
Volume Auto-Detection of preparation inside the EMP jar
20ml/s default Flow-Rate (Customizable prior to shipping)
Integrated digital scale
"Dial" to measure the specific amount to be dispensed
"JOG" push-button for priming
"Dispense" push-button
Stainless steel tower poles, MIC-6 aluminum, powder-coated
Electrical Nema-23 stepper motor
Microprocessor with USB port for firmware updates
Full-color touchscreen display; 4.2 inches
Includes BIOSRX Nozzles (5-Pack)
Dimensions: 8.7"W x 11.25"D x 33.5"H
Weight: 14.5 Lbs
AC Power Input, 24 Volts (5-Amps) P1J
SUPERIOR CONTROL! ACCURACY, PRECISION & SPEED
Simply put, an electric motor triggers the descend of a plunger that engages a piston. The accuracy and precision of CappucineTM are rooted from its upstream hierarchy of control, microprocessor, and innovative design.      
MULTIPLICITY
Cappucine empowers compounding pharmacists and laboratory personnel with the latest technological advances in the industry to fulfill larger magnitudes of compounded preparations with minimal time and effort. Thus preventing physical and mental exhaustion, while maximizing productivity.
EMP JARS
Decade-old Electronic Mortar and Pestle (EMP) jars are about to get a face-lift! Whether you are using a 250, 500, or 1000 ml EMP Unguator® jars (Gako International), Cappucine recognizes them all! Standard EMP jars are generally used for mixing preparations at nearly all compounding laboratories. Cappucine employs Unguator® jars, which are generally used for mixing, and transforms them to be part of a fully automated dispensing system.
MICROPROCESSOR
At the end of the day, Cappucine has a mind of her own—some call it a microprocessor. Embedded in an aluminum heat sink to counteract incoming energies from various signals and processes. Thousands of computations are processed. These processes include but they are not limited to things like weight, load cell information, infrared signals, jar detection, motor speed and position analysis; you name it!
PRODUCTIVITY. REPRODUCIBILITY. AESTHETICS
Unmatched productivity, astounding reproducibility, and enhanced aesthetics of dispensations are quickly becoming the hallmarks of Cappucine.
Auto-Dispensation - VERIFY
In the event a dosage was dispensed incomplete, (most commonly a result of air pockets in formulations) the VERIFY digital-button is automatically set to detect the remaining dosage - the "Dispense" button will do the rest!